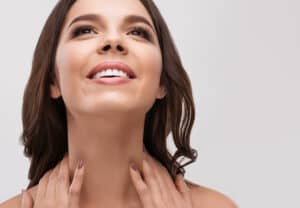 Because of factors out of your control, such as genetics and the aging process, it is difficult to improve your jawline without the help of a skilled plastic surgeon.
It's common for loose skin and fat to affect your chin and jaw area as you get older, but there are various surgical and nonsurgical options to help you achieve a stronger jawline.
Nonsurgical Options for Jawline Definition
Nonsurgical treatments to improve your chin and jawline contour are best for people who have mild to moderate loose, sagging skin obscuring the jawline. Dr. C.B. Boswell will discuss your options to achieve a well-defined jawline during your consultation, which may include:
Dermal fillers: Dermal fillers injected into the jawline can enhance the angle of the jawbone in patients who have a naturally weak, soft or poorly defined jawline. Dermal fillers such as Restylane and Juvéderm refine and define the chin and jaw's contour. You could enjoy a more defined jawline for 12 to 18 months with dermal fillers.
Botox and Dysport: These injectables are made with botulinum toxin and can be injected into enlarged or highly developed masseter muscles, which are found at the back of your jaw and responsible for jaw closure. By relaxing the masseter muscles, Botox and Dysport can slim your lower face and give it a "V" shape.
Plastic Surgeries to Strengthen the Jawline
Facial plastic surgery can strengthen your jawline if you have fat and loose skin that's settled in the neck, chin and jaw area. More than one of these procedures may offer the benefits you're looking for to restore or improve a youthful facial contour:
Neck Lift: This procedure addresses aging issues in the lower face and neck that obscure the jawline, such as loose skin ("turkey wattle") or a double chin. A neck lift creates a stronger jawline by tightening the underlying neck muscles and removing excess skin and fat under the chin.
Neck Liposuction: If you struggle with fat accumulation under your chin, but your skin elasticity is still strong, neck liposuction may deliver your desired results for jawline definition. Liposuction will not address excess or loose skin that remains after the fat has been removed.
Facelift: One of the many facial concerns treated with a facelift is a jawline obscured by loose skin and fat deposits. If you also struggle with deep lines and wrinkles and volume loss in the cheeks, this facial plastic surgery may offer you more than a stronger jawline. You could achieve complete facial rejuvenation.
Discuss Your Options for a Stronger Jawline
Contact BodyAesthetic Plastic Surgery & Skin Care Center in St. Louis today by calling (314) 638-8200 to discuss strengthening your jawline.