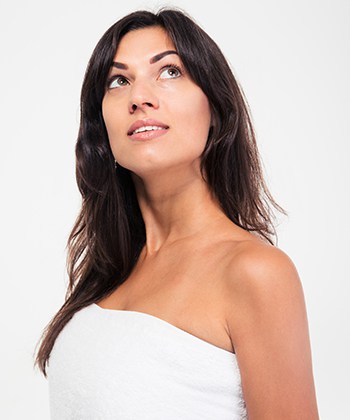 Are you looking for top breast enhancement surgery in St Louis? Talented cosmetic surgeon Dr. CB Boswell treats St Louis breast augmentation patients at BodyAesthetic Plastic Surgery and Skincare Center. Learn more about the popular breast implant procedure below:
Breast augmentation, technically known as augmentation mammoplasty, involves placement of an implant to enlarge and shape the breast. It is the second most popular cosmetic surgery operation in the U.S., performed on more than 330,000 women in 2004. (Only liposuction is more often requested.) In line with these national trends, breast augmentation is one of the more frequently performed procedures at BodyAesthetic Plastic Surgery.
The typical woman seeking augmentation is in her early thirties and has finished having children, though augmentation is popular among women ranging from the age of 18 to 50 and is even requested by women in their mid-60s. The reasons women seek breast surgery are many, varied, and personal. Most are generally happy with their bodies but have been self-conscious for years about their small breast size, which they feel is out of proportion with the rest of their bodies. Because of the disproportion, they have difficulty finding clothes that fit.
An overriding motivation reported by women seeking augmentation is to feel better about themselves and gain greater self-confidence. Many women who have had and nursed children decide on breast augmentation as a way to regain the breast size and shape they had before becoming mothers. The best candidates for augmentation are healthy and well-adjusted women who want to get implants for themselves, not to please someone else. Breast implants can never fix a relationship or magically improve a life.
Surgery involves inserting an implant behind each breast. Most women are looking for an increase of 1 or 2 bra cup sizes, but others want a greater size change. Before you decide to have augmentation surgery, you must think carefully about your expectations and what you hope to achieve. Your board-certified St Louis plastic surgeon will then discuss these goals with you so he can help you more clearly define what you want and whether breast augmentation is right for you.
Before You Choose Breast Augmentation
Breast implants do not last forever and will eventually break (rupture or deflate). Please see the Breast Implant Complications page for additional information on the types of problems most often seen with breast implants. Many of these complications will require another surgery, and women must be prepared for this possibility before getting an implant. During your consultation you will receive written materials that explain these complications in detail. Please ask your surgeon about anything you do not fully understand.
Implant Decisions To Be Made With Your Surgeon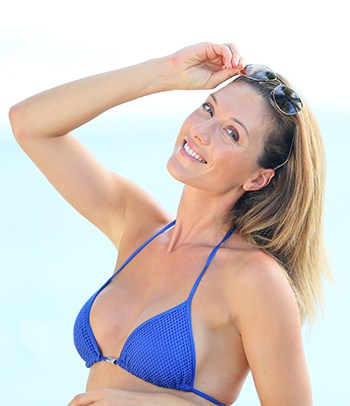 Our many years of experience have taught us that patients are much happier when they play an active role in planning their surgery. We will explain the many options available, such as the types and sizes of implants, where implants will be placed and through which incisions. In consultation with your surgeon, you will then decide which options you prefer.
Silicone vs Saline
All breast implants are made of a silicone shell that is filled with either silicone gel or saline (salt-water). Because of concerns about the safety of silicone gel breast implants, the Food and Drug Administration (FDA) decided several years ago that they should be available only to women who meet specific criteria and are willing to participate in approved studies. However, the implant manufacturers have since demonstrated the safety of these devices to the satisfaction of the FDA, and silicone gel implants will be made available to more women beginning in 2006. Saline-filled implants are currently obtainable by all breast augmentation patients on an unrestricted basis.
Your surgeon will explain what types of implants are available to you and answer any questions about their safety. He will also discuss the two types of implant surfaces (smooth and textured) and implant shapes (round and anatomical) to help you choose your preference.
Implant Size
No one size of implant fits all women. In addition to the implant volume, implants have different diameters and heights. Your implant size will depend on a combination of your particular anatomy and the breast size you desire. Your surgeon will direct you to resources on the web that show photographs of real women (not models) before and after augmentation. You will be asked to find examples of women with a body shape like your own that illustrate what you want to look like after receiving breast implants. BodyAesthetic patients find this approach extremely helpful in deciding on breast size, and we insist that women take a very active role in discussing their surgery and goals.
Implant Position
Breast implants can be placed either above or below the pectoralis major muscle, and each position has advantages and disadvantages. Your surgeon will explain what these are and help you decide on the position you prefer.
Incision Location
Breast augmentation requires very small incisions that are usually inconspicuous. Your surgeon will discuss whether you prefer to have the incision located in the crease where the breast joins the chest (the inframammary crease), the areola, the armpit, or the belly button (umbilicus). The latter two incision locations require use of an endoscope for implant placement.
The Breast Augmentation Procedure
The method of inserting and positioning an implant will depend on your anatomy, your preferences, and your surgeon's recommendations. Working through a small incision for each breast, the tissue and skin are raised to create a pocket for the implant, either directly behind the breast tissue or beneath the large pectoralis major muscle on the chest wall. The implant is then centered beneath the nipple. After the opposite breast is done, the symmetry of both breasts is checked carefully and adjustments made if necessary. The incisions are then closed with stitches. The surgery usually takes about 1 hour if you are getting breast implants for the first time.
Visit our gallery to view breast augmentation before and after photos from our previous patients.
What To Expect After Breast Augmentation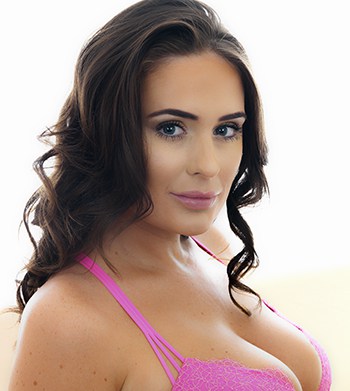 You will probably feel tired and sore for a few days following surgery, but you'll be up and around in 24 to 48 hours. Most of your discomfort can be controlled by medication prescribed by your doctor. Recovery takes longer when implants are placed beneath the muscle rather than on top of it because the muscle is raised, which is more painful than elevating only the breast tissue. Your breasts will be bruised, and you may feel a burning sensation in the nipples, but both should subside in a week or two. There will also be some breast swelling that may take 3 to 5 weeks to disappear completely. Stitches are absorbable so do not have to be removed.
You should be able to return to work within a week after surgery if your job does not demand a high level of activity. Most normal activities can be resumed within 1 or 2 weeks, but exercise should not begin until you are fully healed, usually 4 to 6 weeks. Your breasts will probably be sensitive to direct stimulation for 2 to 4 weeks, so physical contact should be avoided until the breasts are no longer sore.
Incision scars will be firm and pink for at least 6 weeks and may remain the same size for several months, or even appear to widen. After several months, your scars will begin to soften and fade. Although they will not disappear completely, they should be inconspicuous when fully healed.
A yearly breast examination by your surgeon is extremely important for all women with breast implants because he is much more experienced in detecting implant problems than any other type of physician. Regular mammograms for those 40 and older are also very important to look for problems with your implants, and special mammography views are needed.
Length Of Surgery
About 1 hour
Anesthesia
Usually general
In/Outpatient
Usually outpatient
Side Effects
Temporary soreness, swelling, change in nipple sensation, bruising. Breast sensitive to stimulation for a few weeks.
Breast Augmentation Risks
Lack of implant permanence–surgical removal or replacement of implants may be required to treat problems, including implant rupture or deflation, the formation of scar tissue around the implant (capsular contracture), bleeding, or infection. Increase or decrease in sensitivity of nipples or breast skin is occasionally permanent. Mammography requires a special technique.
Breast Augmentation Recovery
Back to work: usually within a week.
Physical contact with breasts: 3 to 4 weeks.
Fading of scars: several months to a year or more.
Duration of Results
Variable. Breast implants may require removal or replacement.
Schedule a Consultation for Breast Augmentation in St Louis
If you would like to learn more about breast implants in St Louis, contact BodyAesthetic Plastic Surgery & Skincare center today to schedule your breast augmentation consultation with Dr. Boswell and his talented cosmetic surgery team.