Dr. C.B. Boswell, of BodyAesthetic Plastic Surgery & Skin Care Center, is board-certified by the American Board of Plastic Surgery (ABPS) and is a member of the American Society of Plastic Surgeons (ASPS) and the American Society for Aesthetic Plastic Surgery (ASAPS). Dr. Boswell is a St. Louis plastic surgery specialist who performs an array of cosmetic surgery procedures for the face, breast and body.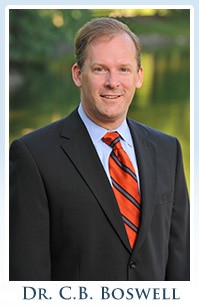 BodyAesthetic Plastic Surgery offers the latest cosmetic surgical techniques and non-surgical technologies, which are regularly introduced in the rapidly-evolving field of plastic surgery. Yet BodyAesthetic distinguishes itself from other practices in the St. Louis area in several ways. Renowned for artistically-inspired surgical techniques, Dr. Boswell has helped breast augmentation, liposuction, tummy tuck (abdominoplasty), facelift and breast lift patients refine and enhance their physical appearance. Our practice offers a broad range of aesthetic and reconstructive surgical procedures, with a specialized focus on facial rejuvenation, breast procedures and body contouring. We work very hard to be one of the best plastic surgery practices in St. Louis, Missouri.
The founding idea behind BodyAesthetic Plastic Surgery & Skincare Center, which opened its doors in July 2002, was to create a new kind of medical practice that raises the standard of care and focuses on collaboration among our surgeon, staff, nurses, licensed aestheticians and skin care specialists. We are dedicated to providing personalized attention through a team approach. This is why we emphasize communication between our surgeon and staff to help guide our patients through the process of defining their goals and choosing the most appropriate treatment. This is why he is a top cosmetic surgeon in St. Louis, Missouri.
After completing a prestigious fellowship in cosmetic surgery, Dr. Boswell brought his advanced skills and the latest aesthetic surgery techniques to the St. Louis, Missouri area.
Another unique characteristic of Dr. Boswell is his interest in research as it applies to improving surgical results. He conducts research locally and as part of national studies, including clinical trials of a new injectable tissue filler for the face in massive weight loss patients, a new product to combat keloid formation, a study of injection lipolysis to reduce abdominal fat, and the silicone gel breast implant trial that led to their approval. We have the only plastic surgeon in the area certified as a member of the Botox Cosmetic National Education Faculty.
Dr. Boswell frequently presents recent research at major national plastic surgery society conferences. Two or three times a year, he teaches "Master Classes" in body contouring after massive weight loss to train other plastic surgeons; he also serves as a faculty member for courses on breast augmentation and body contouring at national meetings. Dr. Boswell publishes regularly in the leading aesthetic surgery journals and has twice received the American Society for Aesthetic Plastic Surgery Award for Excellence for "Best Journal Article," in 2004 and 2006.
Dr. Boswell's technical training and experience gives our patients more options for achieving the result they want. He primarily operates at Barnes-Jewish West County Hospital.
Although Dr. Boswell has specialized experience and skill, our guiding philosophy is for the entire team to work together as true partners to determine what is best for each patient.
Our approach to personalized care is another feature of the BodyAesthetic philosophy. We understand that changing something about your appearance is an intensely personal decision that demands a true partnership between you and your surgeon. Thus, we respect our patients as partners in the process. An initial consultation may last 1 or 2 hours because Dr. Boswell takes the time to listen to what a patient hopes to achieve and then thoroughly discuss surgical and non-surgical options.
Having any kind of elective surgery is an important choice, and we want our patients to be well informed about what to expect. We appreciate that patients may need to think about their options without feeling pressured to make a decision. Consequently, a second or even third consultation is not unusual. And, if someone requests a procedure that's not right for him or her, we will explain why and offer alternatives. Our patients appreciate this honest approach to consultation.
At BodyAesthetic Plastic Surgery & Skincare Center, we view ourselves as a team dedicated to providing the best and most appropriate care possible. That's why we consult with one another frequently throughout the day to design an individualized treatment plan for each patient based on our collective experience and the patient's specific needs. We take pride in achieving our goal of making you comfortable with us and promise you will always receive respect, professional service, and genuine concern for your interests.
Check Out What's New!