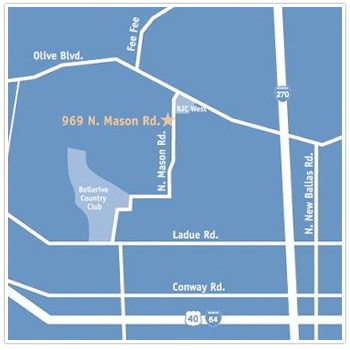 Office Location
969 N. Mason Road, Suite 170
St. Louis, Missouri 63141
314-628-8200
Office Hours
Monday 8AM-5PM
Tuesday 8AM-4PM
Wednesday 8AM-7PM
Thursday 8AM-4PM
Friday 7AM-2PM
The office is south of Olive Boulevard, about 1.5 miles west of I-270, on the west side of Mason Road. If driving on Olive, turn south onto Mason Road, then turn right on the second street called Executive Parkway (Executive Parkway is shaped like a U).
In January 2003, BodyAesthetic Plastic Surgery moved into a new office specially designed to enhance our ability to offer professional services and personalized care to patients while facilitating frequent consultation among all the staff, especially those involved in direct patient care. Our office creates a soothing and non-medical environment that ensures comfort, privacy, and safety. Though the office is luxurious, its friendly and welcoming atmosphere is even more important to us.
Barnes-Jewish West County Hospital, where we perform most surgeries, is located at: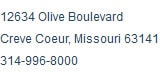 The hospital is just east of Mason Road, also on the south side of Olive. The entrance to the main hospital parking lot is off Olive. For complete information, visit www.barnesjewishwestcounty.org
Click here for Google Maps.