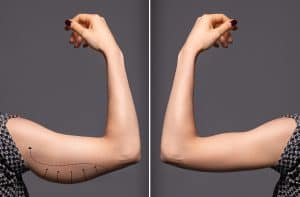 There is little anyone can do about loose skin tissue. While some ointments or treatments promise to reduce and tighten the appearance of the skin, life changes and natural aging make sagging body areas inevitable for some men and women. Hormones, age, genetics, lifestyle, pregnancy and significant weight loss can all contribute to loose skin in the arms, thighs and other areas.
Dr. C.B. Boswell in St. Louis is a board-certified plastic surgeon who offers various lift procedures to eliminate sagging skin.
Arm Lift (Brachioplasty)
Flabby upper arms, or bat wings, plague many people, especially women who seem more prone to loose skin and fat accumulation in this area. Brachioplasty contours the armpit and upper arm for a smoother, tighter arm shape. The procedure starts with an incision on the inside of the upper arm, then liposuction removes stubborn fat pockets, and the loose skin is surgically removed. Arm lift takes up to two hours in the operating room and involves a quick recovery.
Thigh Lift
The inner thigh skin is more delicate than other body areas, with thinner, less elastic tissues. The thighs tend to experience lax skin and sagging first. The inner thigh lift or medial thigh lift removes loose skin and fat deposits from the upper inner thigh and conceals the incision along the natural groin crease. Dr. Boswell lifts the skin on the inner thigh to a higher position and closes the area with stitches. Thighplasty is another technique that involves a secondary incision that stretches down by the knee for more extensive skin removal. Thigh lift lasts an hour and a half to three hours, depending on the technique, and involves a one-night hospital stay.
Thigh and Butt Lift
Loose skin and sagging tissues also happen on the buttocks, hips and outer thighs. Thigh and butt lift trims the lower body shape for a tighter contour and even addresses cellulite caused by the drooping skin. Dr. Boswell makes an incision across the buttocks just under the bikini line and extends it around the sides by the hip bones. He skillfully trims the excess skin and fat and secures the underlying tissues for an elevated figure. The procedure takes around three hours, and patients typically spend one night in the hospital for monitoring after a thigh and butt lift.
Lower Body Lift
Circumferential body lift combines several lift procedures to reshape the abdomen, hips, waist, buttocks and thighs. This plastic surgery is often performed on patients who have achieved massive weight loss and have residual pockets of fat and excess skin in many areas. It is a lengthy body contouring procedure that provides remarkable results. Dr. Boswell is a nationally recognized leader in lower body lift and has curated his body contouring techniques.
If you struggle with loose skin in one or more areas, contact BodyAesthetic Plastic Surgery & Skincare Center in St. Louis to discuss your lift procedure options. Schedule your consultation by calling (314) 628-8200 or filling out our online contact form.