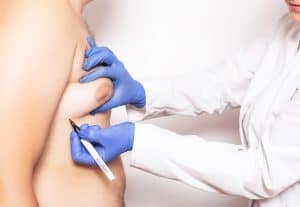 Gynecomastia, or enlarged male breast tissue, causes many adolescents and adult men embarrassment and painful symptoms. The condition may affect one breast or both and impacts up to 60 percent of men, though some cases resolve independently. The overall cause is unknown but gynecomastia is linked to certain drugs, medications and other factors. Our board-certified plastic surgeon in St. Louis offers gynecomastia surgery, or male breast reduction, to provide a more masculine contour and eliminate uncomfortable symptoms. 
Who is a Candidate for Gynecomastia Surgery? 
Healthy, emotionally stable men, including teenagers, who struggle with gynecomastia, are eligible for the procedure. Symptoms may include swollen breast tissue, tenderness and nipple sensitivity. These men may avoid wearing specific clothing or participating in activities that accentuate their enlarged breast tissue. 
Candidates for male breast reduction should have good skin elasticity, be at an average weight and abstain from substances known to worsen gynecomastia, such as anabolic steroids, marijuana and alcohol. 
Gynecomastia Procedure
Male breast reduction is an outpatient procedure, but some men may need overnight monitoring in severe cases. The surgery takes around an hour and a half, and the patient is under general anesthesia. Dr. C.B. Boswell is an experienced plastic surgeon who customizes gynecomastia surgery for each patient. 
If excess fatty tissue in the breasts is the primary concern, liposuction removes the fat cells. Lipo uses a small incision measuring less than a half-inch made around the areolas (pigmented skin around the nipple) for discreet incision lines. A secondary incision may be necessary in the armpit. Liposuction removes the excess fat through a hollow tube (cannula) that moves back and forth to break up and suction out the fat cells. 
Men with gynecomastia caused by excess glandular tissue require more invasive surgery to correct the condition. The extra breast tissue is surgically removed through the same incisions with liposuction. However, significant tissue excision may need a larger incision or more lines around the areolas and the sides or bottom of the breasts. When large volumes of fat or breast tissue are removed, there could be loose skin tissue that also needs excising to achieve a firmer, flatter chest shape. 
Dr. Boswell may place a small drain to remove excess fluid during recovery that requires special care outlined in the post-op instructions. Incisions are closed and covered with a dressing, and a compression garment is used around the chest to help the skin contract and hold the tissues in place. 
If you struggle with gynecomastia, contact BodyAesthetic Plastic Surgery & Skincare Center in St. Louis today to learn more about male breast reduction. Schedule your consultation by calling (314) 628-8200 or filling out our online contact form.