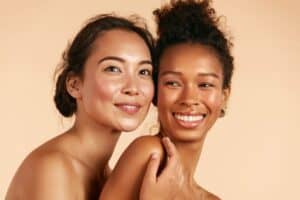 As nice as it is to reach a point in the pandemic when we can all feel more comfortable taking our masks off, there is no doubt that some of us have at least partially enjoyed the opportunity to cover our faces in public. Whether these masks allowed us to hide wrinkles or ease up on our skincare routines, the time is approaching to freshen up our faces. At Body Aesthetic Plastic Surgery & Skincare Center, we recommend the following procedures:
VI Peel
VI Peel is an advancement over traditional chemical peels that uses a special formula of ingredients to boost your skin's tone and texture. It works beneath the surface layer of the skin, as well, to address potential damage below. Days after this peel, you can expect to see glowing, smooth skin with fewer visible wrinkles. It is a popular treatment for patients with plenty of sun damage or significant signs of aging.
Dermaplaning
Dermaplaning is an exfoliation treatment that pulls the top layer of dead skin from your face. This process brightens and smooths out the skin, simultaneously removing signs of wrinkles, scars and sun damage. Dermaplaning is especially popular with patients who have "peach fuzz" on their face, as it simultaneously removes the soft hairs that grow on the face.
Laser Resurfacing
This treatment utilizes an erbium laser to peel away layers of damaged skin to reveal the glowing skin beneath. It is primarily used to reduce signs of wrinkles around the mouth and eyes yet has the added benefit of evening out pigmentation irregularities and concealing scars. Either superficial or deep resurfacing can be performed depending on how many layers of skin need to be treated. We see a lot of success with Clear + Brilliant, one of the most trusted names in laser resurfacing.
Injectables
No treatment is quicker than injectables, which can give you bigger lips or tighter skin with fewer lines in a matter of days. At Body Aesthetic, we offer Juvederm, Restylane, Botox and Dysport, and Dr. C.B. Boswell can recommend the right one to address the specific issues you may have.
Facelift
Although the aforementioned treatments can achieve great results, for the most dramatic changes nothing beats facelift. Obviously, surgery is a much more involved process with substantial downtime, but for those who want to seriously reduce signs of wrinkles and see those results last upwards of a decade, facelift is the way to go.
The professional team at Body Aesthetic Plastic Surgery & Skincare Center is here to help you maintain a beautiful, young-looking face. If you are unsure which treatments would benefit you the most, arrange for a consultation with our experts by calling (314) 628-8200 today.