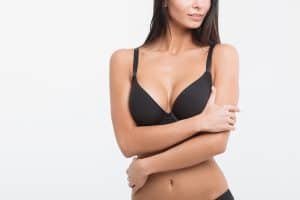 Countless patients have come to BodyAesthetic Plastic Surgery due to concerns about the appearance of their breasts. All of these patients have unique treatment goals. That is why board-certified plastic surgeon Dr. C.B. Boswell provides an individualized approach to patients seeking breast surgery.
Dr. Boswell offers a number of surgical options. Two of the most common breast procedures that he performs are breast augmentation and breast lift. Here, he discusses the procedures and the benefits that the procedures offer to patients.
Breast Augmentation
Breast augmentation, also known as getting breast implants, is a safe and popular procedure for patients desiring a fuller bust. It is one of the most popular surgeries performed in the United States.
Patients have different reasons for getting breast augmentation. These reasons can vary significantly among patients and are highly personal. Some desire implants to regain shape and volume after having children. Others desire implants because they feel that their breast size is out of proportion with the rest of their body.
Before you undergo breast augmentation you should have a clear understanding of your expectations for the procedure. Discuss these expectations with your plastic surgeon so he or she can understand whether breast augmentation is right for you.
The breast augmentation procedure is highly customizable. Patients have a number of decisions to make before the procedure, including the following:
Silicone gel or saline implants
Implant size
Implant position
Incision location
After the breast augmentation procedure, patients can expect fuller breasts. The happiest patients tend to be those who play an active role in planning their surgery and who discuss their goals and expectations with their surgeon.
Breast Lift
Breast lift is another common breast surgery. It is best for patients who desire a perkier bust. Unlike breast augmentation, breast lift does not include implants.
Patients choose breast lift for a number of different reasons, including dissatisfaction with the volume and position of the breasts due to weight changes, gravity and/or aging. Patients also seek out breast lift due to changes caused by pregnancy and nursing.
During breast lift, excess breast skin is removed, and the position of the nipples and areolas is raised. The size of the areolas can also be reduced to improve the overall appearance of the breasts.
In addition to providing patients with a perkier bust, breast lift also offers the following benefits:
Improved breast shape
Reduced sagging
Improved volume in some areas of the breasts
Improved breast symmetry
Schedule Your Breast Surgery Consultation Today
If you are ready for fuller or perkier breasts, then it is time to contact BodyAesthetic Plastic Surgery & Skincare Center in St. Louis to learn more about your breast surgery options. Schedule your consultation by calling (314) 628-8200 or filling out our online contact form.