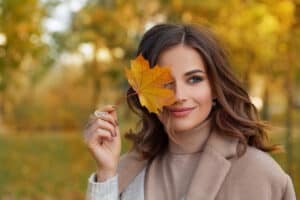 Cozy weather is settling in at our Missouri office. This time of year, we spend more time indoors and wear roomy, comfortable clothing. Fall is an excellent time to schedule a face, breast, or body plastic surgery because you have plenty of time to recover discreetly and can enjoy your full results when the weather warms up. Whether you want to sculpt your figure with liposuction or take years off your complexion with facelift, our board-certified plastic surgeon can deliver excellent results at BodyAesthetic.
1. Enjoy Your Full Results by Spring
While the initial healing process after plastic surgery takes several weeks, it can take up to a year for your tissues to adjust and incision lines to fade. The more months between your procedure and warmer weather, the better you will look by summer. Enjoy your tummy tuck outcome by swimsuit season or reveal youthful brow lift results when the cold weather fades and gives way to the first sprouts of spring.
2. Inconspicuous Recovery
Additional layers of clothing during fall and winter make recovering from plastic surgery more comfortable and easier to conceal. Fall fashion includes soft fabrics and loose-fitting sweaters or cardigans that feel nice against healing skin and hide compression garments and bandages from body procedures. The fall wardrobe is more suitable for plastic surgery recovery than short or tight-fitting summer clothing.
3. Flexible Scheduling
Most patients pursue breast surgery, face procedures, or body contouring at the end of winter or early spring. January is often the start of the busy season for plastic surgeons because men and women want to enhance their appearance in the new year with enough time to enjoy their results by summer. Dr. C.B. Boswell may have more availability in the fall months, allowing you to schedule your consultation, procedure, and follow-up appointments when it's most convenient for you and your schedule. By the time others are just starting their journey, you'll be fully recovered.
4. Avoid Recovering in the Heat and Sun
Sun exposure after surgery can lead to poor scarring, and Missouri's sweltering summer heat can worsen post-surgical swelling. The hot weather makes compression garments and bandages more cumbersome. Excessive heat and sun exposure may cause dehydration. These concerns can hinder the healing process. Cold weather offers a more comfortable recovery.
5. Recovery Before the Holidays
Most procedures require six to eight weeks of recovery, but many patients feel comfortable in public and at social gatherings after two to four weeks. Most healing happens during the first two weeks, so you'll need to take time off work to heal. However, immediate swelling should be gone by the time the holidays roll around, and wouldn't you rather be enjoying your plastic surgery results over the holidays instead of dreading that family photo?
If you're interested in a face, breast, or body procedure, contact Dr. Boswell in St. Louis, Missouri. Schedule a consultation at BodyAesthetic Plastic Surgery & Skin Care Center by calling (314) 628-8200.