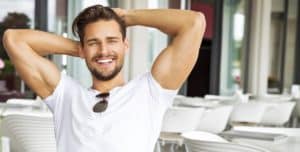 Women aren't the only ones who seek cosmetic procedures. A significant number of men get plastic surgery each year as well.
According to the 2018 Plastic Surgery Statistics Report, last year, close to 215,000 men got cosmetic surgery and almost 1.1 million men had minimally invasive cosmetic procedures performed.
Like women, men seek plastic surgery for a variety of reasons, including to enhance certain features and to create a more youthful appearance. But mostly, they want to look as good as they feel.
Below, Dr. C.B. Boswell and the team at the Body Aesthetic Plastic Surgery & Skincare Center talk more about why more men are seeking plastic surgery along with the types of procedures they're getting. Continue reading "Why More Men Are Seeking Plastic Surgery"