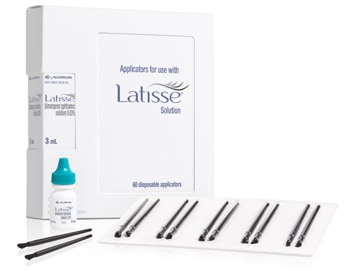 Latisse (bimatoprost ophthalmic solution) is the first and only FDA approved prescription for the treatment for hypotrichosis used to grow eyelashes, making them longer, thicker, and darker. Eyelash hypotrichosis is another name for having inadequate or not enough eyelashes.
Allergan supported a clinical trial to evaluate the effectiveness of Latisse. Patients applied Latisse to the base of their eyelashes where the eyelash meets the skin. The treatments were continued for four months on a nightly basis. The average person who was in the clinical trial saw 25% increase in eyelash length, 106% increase in eyelash thickness, and an 18% increase in eyelash darkness. In our experience, most patients start to see improvement approximately 8 weeks after starting Latisse. The majority of the Latisse users saw full results by 12 to 16 weeks.
The most common side effects after using Latisse are a temporary itching sensation of the eye and redness of the eye. It can cause darkening of the eyelid skin which is reversible and there is the potential for increased brown iris pigmentation which may be permanent. In the FDA clinical trials, no patients developed darkening of the iris while using Latisse. There is a potential for hair growth to occur in areas that Latisse comes in repeated contact with the skin.